AW Health Care would like to introduce our Outpatient Rehabilitation Manager!
AW Health Care hires and retains top-notch professionals to serve our clients, patients and families.
Each staff member is team-oriented and passionate about their job because AW fosters individual personal and professional development allowing each to become the best he/she can be. Here's one of our valued outpatient therapy team members…Krissy Sullivan!
Krissy Sullivan, MPT, ACT, LMT
AW Health Care Outpatient Rehabilitation Manager
Master of Physical Therapy – Northwestern University Medical School, Chicago, IL
Bachelor of Science in Communication Sciences and Disorders – Northwestern University School of Speech, Evanston, IL
Certified Athletic Trainer – Certified by the National Athletic Training Association
Licensed Massage Therapist – Certified by the Bancroft School of Massage Therapy, Worcester, MA
Professional duties and responsibilities offer challenge and satisfaction:
Conducts assessments and plans of care
Provides direct patient therapy including aquatic therapy services
Surveys and reports on patient satisfaction
Coordinates care and reports to referring physicians and AW Health Care medical staff
Manages the daily operation of two outpatient facilities
Supervises physical therapy assistant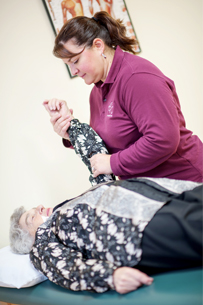 Krissy has 12 years therapy experience including work for the USA Rugby Women's National Team as a physical therapist, senior staff athletic trainer and massage therapist. She also has experience with outpatient orthopedics, workman's compensation and ergonomics. In addition, she received specialty training in aquatic therapy. She is an avid traveler, having visited 14 countries in Europe, Asia, and the Americas.
Krissy has also found time to be involved in outreach events as a speaker, or an author in her areas of expertise. She has also donated her time to various educational and non-profit organizations in St. Louis and Illinois.
AW values reliability, camaraderie and interdependence. This results in better quality care as evidenced by a patient satisfaction rate of 98% consistently over the last 8 years.
AW Health Care's Outpatient Therapy Clinic is conveniently located near the intersection of Balson and Midland in University City. We treat seniors, students and adults. Services include manual therapy, therapeutic exercise, modalities and treatment of fibromyalgia and neuropathy.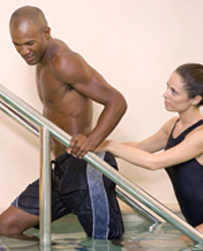 The clinic also offers a 4-ft deep pool with resistance treadmill for aquatic therapy patients. Many insurances accepted. Call for more information and appointment: (314) 726-5600